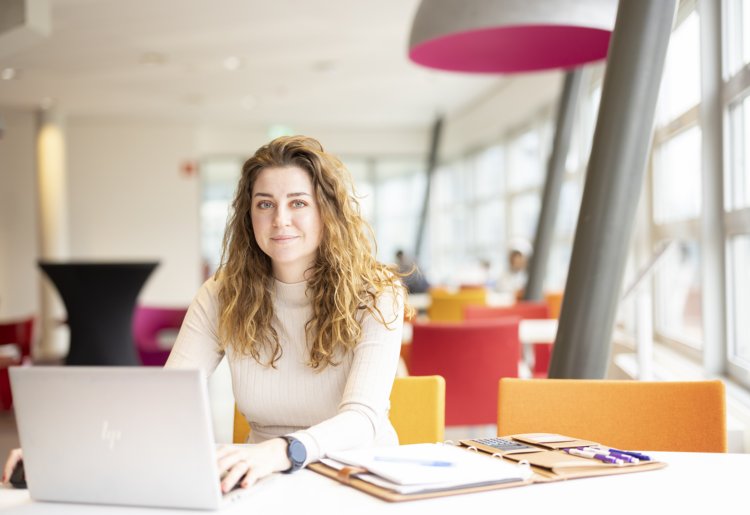 Benefit from our employment conditions
You can, of course, expect an attractive reward for your talent. Not only an excellent salary in line with market rates, but also a secondary benefits package that includes an optional model of employement allowing individual customisation.
What you can expect from us
This is your reward
Examine which employment conditions suit you best. Below is just a selection of what we offer. This includes:

√ a salary
Reflecting your knowledge and experience.

√ an extensive range of internal education and training
From language courses to personal development.

√ scope for sabbatical leave and study leave
Extra freedom to take steps towards further growth at the University of Twente.
√ the option of working in a hybrid way
This might include resources for setting up a healthy home office.

√ (free) sports opportunities on campus
Take a little exercise and then get back to work with a fresh focus.
√ benefits/discounts via staff association UT Kring
Such as sea fishing, Dutch design week, Christmas market visit and Turkish cooking workshops.
√ a year-end bonus of 8.3%
An extra reward for all your effort.

√ a holiday allowance
A great added benefit!

√ optional model of employement
The option of drawing up your own package of secondary employment conditions each year.

√ various collective insurances
For example, health insurance at Menzis or an alternative collective insurance.

√ the option of working part-time
Let's take a look at the options together.

√ you receive 232 hours of leave each year (for a 38-hour working week)
And if you work for us full-time, then you will accrue an extra two hours a week for a 40-hour working week. And that adds up to a further 96 hours extra leave a year! You may of course use the selective model to buy or sell annual leave.

√ parental leave
Both paid and unpaid.

√ the opportunity to combine your job with other activities
Keep building your knowledge base.

√ childcare on campus
Nice and close. Contact Partou de Vlinder childcare for further information.

√ a local international school
Saves you a lot of travel time.

√ assistance when requesting a visa
That really helps.

√ extra support when looking for a job for your partner
That's what we call dual careers.

All other conditions are found in the Collective Labour Agreement for Dutch Universities.