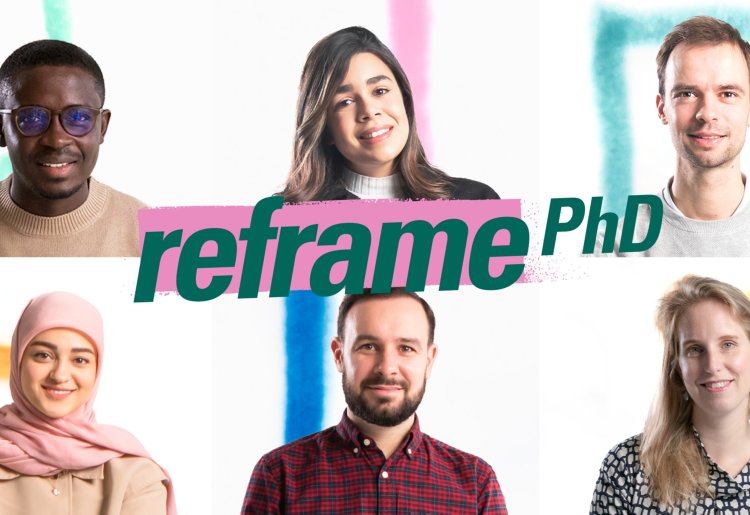 A PhD as a springboard for your career
After your master's, follow a PhD programme at the University of Twente. PhD is a paid job in addition to post-master studies. After four years of in-depth research, you will receive your doctorate and you will be officially awarded the title of doctor (Dr.). The foundation for the rest of your career and recognition in both academia and in business.
Working as a PhD
Earn your recognised title
Four years of interesting work. With an in-depth study within a specific research area as end product. This involves your dissertation and at the end a presentation and defence of your research.
Curious about which PhD programmes are available to you?
Watch the videos of our PhD candidates
Reframe PhD
Doing your PhD at UT
Will be the most influential time in your personal development to prepare you for your future career
What are the career prospects?
A career outside of science is an option after you've earned your PhD

For example, you can think of policy functions in government and management and consultancy functions in the business world.

Research has shown that 80% of PhD students aspire to a career in science following their PhD. However, only 20% of all PhD students are employed at the university, and another 10% end up in research-related positions outside the university. After their promotion, the remaining 70% will end up in positions in the business community or in government.

Read the story of Matteo

Why should you do a PhD?
All the benefits at a glance

√ Great opportunities on the job market, both inside and outside academia!

√ Highest academic degree, after your PhD you can use 'dr.' put before your name.

√ Varied work, besides your research you spend time supporting education. For example, supervising master's and bachelor's students is part of your work.

√ Good working conditions, travel allowance, the possibility to work from home, flexible hours, vacation days that you can organise yourself and a 13th month!

√ Working in a multidisciplinary environment and entrepreneurship is stimulated.

√ You build an international network, you discover the latest trends in your field. And learn about (your own) publications.

√ Based on your individual expertise, you have a great deal of freedom in your work.

Reframe PhD
From assumptions to insights

Verena lives in Germany and gained her Bachelor's degree in Chinese and Computer Science. During her Master's, she focussed on developing cyber security for electricity grids. She has always been captivated by the sciences, especially maths and physics - a passion that features prominently in her PhD.

Read more stories

What can you expect?
Become an independent researcher

You can actually do a lot and have a lot of freedom. But after four years you have to present your research. Most of it is up to you to decide how you do that.
You need motivation and self-discipline. A PhD is especially hard, because it is never finished. Each question you answer raises new questions. That's tempting to a curious scientist. You have to stick to the big picture and not make your research too big.

Read more on the TGS website
The foundation for a wonderful career
begins at the University of Twente
Apply to the University of Twente today
Have you completed a Master's? Then a PhD is the powerful springboard to a wonderful career. Selected students are offered a contract of up to four years to follow courses and complete research programmes. Such a PhD programme includes both teaching and other departmental tasks. Varied? Absolutely!